Salacia Of London

The world is turning digital.
Working with on-line bathroom retailer Salacia Of London we developed a series of fully co-ordinated bathroom collections to suit varying retail customer needs.

By creating six design styles applied across five bathroom spaces - master, family, en suite, shower room, cloak room - customers could reach check-out with a complete bathroom scheme in just a few clicks.

https://salacia.co.uk/


Dennys Brands

With a Royal Warrant and over 170 years trading heritage in uniform and cateringwear supply, Soho-based Dennys Brands looked to expand their estate with the acquisition of a new 3,500sqft flagship store on Berners Street, London.

Seamless poured concrete flooring with an exposed high-level structure and services created a contemporary backdrop for a collection of bespoke product display fixtures in European oak, satin acrylic and brushed stainless steel.


Harvey Nichols Knightsbridge

Occupying 1,000sqft of prime retail space the key design challenge in creating the Diffusion space concerned the development of a fixturing collection that increased product density while allowing sight lines through to branded concessions beyond.

A datum of 1350mm was struck with a range of sophisticated fixture designs developed to function beneath this level.

Tiered display tables allowed for product story telling with integrated storage units responding to the briefs requirement for on-floor stock holding.

Upon completion trade for the subsequent 3 months increased +20% using the same merchandise, a clear indication that good design can deliver significant commercial impact.



Pets Corner

With inspiration taken from the archetypal 1950's Californian hair salon, Pets Corner stepped into the dog grooming world with their brief for shop-in-shop environment Dogwood.


Complete with black and white checkerboard vinyl flooring and pastel coloured joinery the local clientele have taken very well to the new offer. Pets Corner have gone on to roll out the Dogwood format across their estate.


Jarrold

Based in the heart of Norwich, family-owned department store Jarrold sought to refresh their 19,000sqft womens fashion floor.

With the ambition to blend international style with a classic English spirit a fresh, timeless, visually open experience was created - a perfect backdrop for their fantastic range of elegant brands.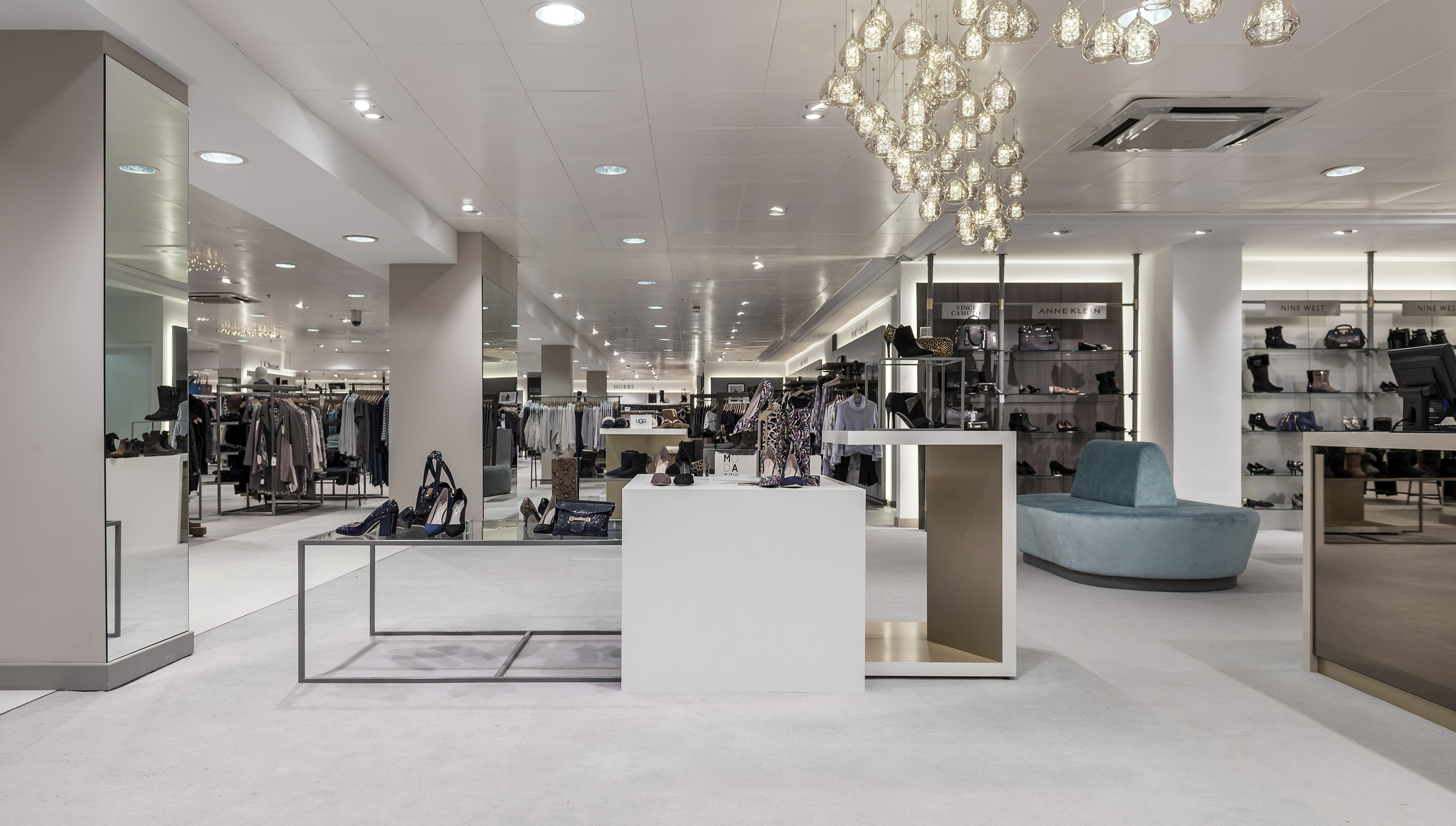 Moda In Pelle

Established womens footwear brand Moda In Pelle appointed Furniss & May to create a scaleable new look concept design for their high street retail store formats.

Based around the notion of Affordable Luxury we crated a scheme that resonated with the core customer while appealing to a wider, more youthful audience.



Simpson Carpenter

Market research agency Simpson Carpenter looked to refurbish their existing 5,500sqft 2nd floor workspace environment to reflect their growing stature.

With solid concrete slabs and no raised floor the building presented some design challenges when it came to delivering against the clients requirement of 'a clean, simple, smart space - with character and style'.



Pet Practice

Vets surgery chain Pet Practice sought a scalable branch design ahead of launching a roll-back fit out programme across their estate.

With exemplary customer service at the heart of their DNA the mission was to create a memorable environment in which customers could experience Pet Practice values in action.

Sheet vinyl flooring in shades of concrete grey, warm white solid surface joinery items with birch-faced ply details were utilised, and as a Cat Friendly Clinic separate dog and cat waiting areas were thoughtfully introduced.


Harvey Nichols - Mens Accessories

Located in the lower ground of the Knightsbridge store, Harvey Nichols mens accessories department needed a new injection of life to compete with surrounding brand concessions.

A bespoke adjustable shelving system was designed and engineered from CNC cut natural oak panels. The solution while meeting the brief for practicality and flexibility served to nicely reflect the attention to detail and fabrication quality of the collection on display.


Pet Family Brands

Working closely with Pet Family brands we developed a coherent collection of exhibition spaces for launch at the leading industry trade show event Interzoo.

Three key design aims were to show-case product ranges with authority, present natural ingredients alongside brand stories and provide adequate meeting space on site.

With each brand occupying its own space in the market and with its own unique DNA the challenge lay in developing distinct and memorable environments that provided a degree of standardisation across the family.